With PTC Mathcad, the tasks of performing, documenting, and sharing calculations are integrated into one seamless process, substantially increasing your productivity.
This step by step Tutorial will help to get your Mathcad Application Up and Running as fast as possible with links to all the relevant documentation and resources needed to configure your Floating Licence.
Download Your Tutorial Now!!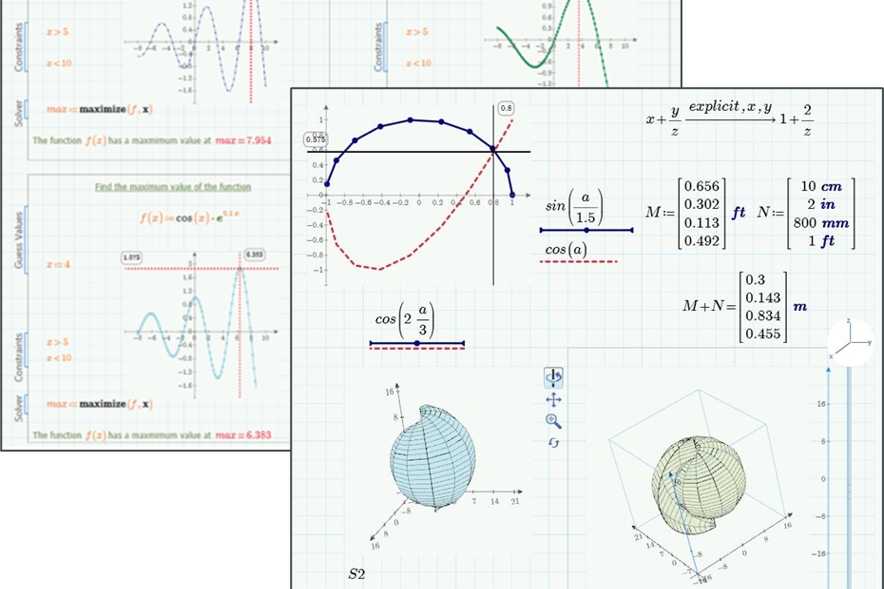 21st June 2022
Kolawole Agoro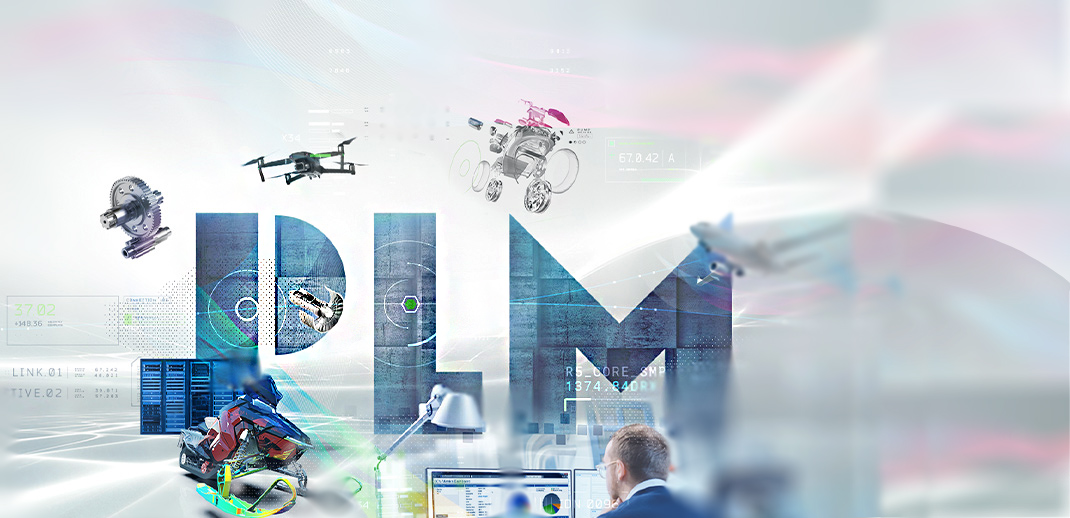 Product Lifecycle Management: An Overview
Product lifecycle management (PLM) software enables geographically dispersed, multi-disciplinary teams to strategically collaborate with partners and customers using trusted, up-to-date product information. It's the process of managing the entire lifecycle of data from its origins, through to the end of usage and application. PLM integrates people, data, processes and business systems and provides a rich, single point of an information tool for businesses and their extended enterprise, utilising the PTC Windchill platform.
PTC Windchill is a family of Product Lifecycle Management (PLM) software products that are offered by PTC (A global technology company with a turnover of $1bn). PTC's Windchill PLM system provides comprehensive out-of-the-box functionality which is highly configurable, with the role and task-based apps. This Software also allows for companies to share 'self-service' product data with non-experts who don't typically use PLM, without added customisation or complexities. PTC Windchill is used by more than 1.5 million users around the world to manage and optimize their product development and lifecycle processes. Windchill is named a leader in PLM Software by Quadrant Knowledge Solutions.
Find out how these products can help you, by clicking the below button.
12th October 2021
Stefan Dornescu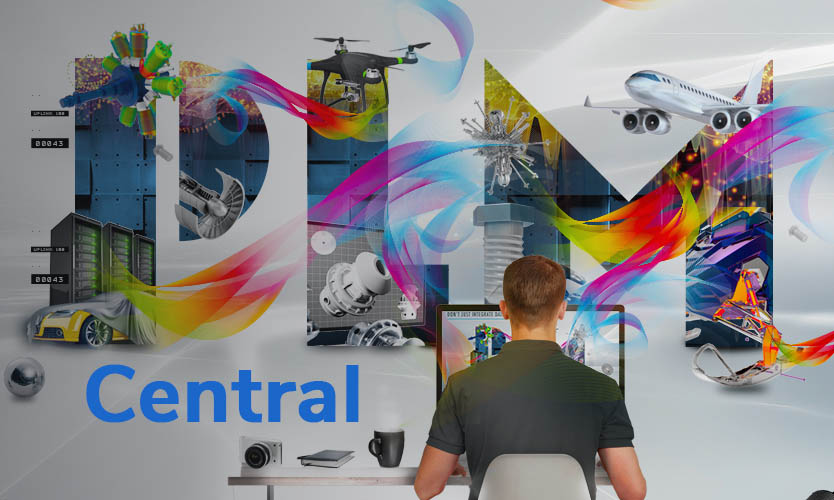 Computer-Aided Design: An Overview
Computer-Aided Design (CAD) is a way to digitally create 2D drawings and 3D models of real-world products – before a prototype has even been manufactured. With 3D CAD, you can simulate, modify, share and review, designs easily. This will open doors to innovation and create competitive products that get to the market fast.
In 1985 Dr. Samuel Geisberg formed Parametric Technology Corporation (PTC) and defined a radically new approach for CAD software. This innovation produced the first parametric and feature-based solid modelling CAD software in the market, which today is known as Creo, the industry standard for product design and development software.
We at PLM Central's offer the world-class PTC Creo suite to meet your Computer-Aided Design specifications – it's the design software with solutions to meet a variety of customer needs. Click the button below, to see how we can help you.
12th October 2021
Kolawole Agoro
Wow! What a year this has been for PLM Central – from the stress and limitations faced because of the Coronavirus pandemic to an exciting and extraordinary uplift, once the world started to open up again. A huge thank you and congratulations goes out to our entire PLM Central team – despite the challenges of the pandemic, we've managed to achieve a record-breaking year.
We would also love to shout out our amazing customers, who have been fantastic throughout. And to celebrate, we're excited to announce 'Customer Day', which will be an on-site event in early spring-summer 2022. More information will follow in due course.
The past year, we managed to more than twice our target, as well as welcome some great new customers, both small and big. We also conducted and completed an intense two-week training course for Lockheed Martin.
After this year's wonderful results, I believe it's fair to say that PLM Central has firmly established itself as a serious contender in UK & Ireland's Digital Transformation sector. I would also like to thanks the entire PTC team who help and supported us reach this very important milestone.
We would also love to introduce you to some of our fantastic new clients:
2. Jamvan Conversions Ltd.

We're extremely excited for the year to come, looking forward to serving our existing customers as well as welcome new customers on board. We are looking forward to 2022 with a new sense of anticipation and are ready for the challenge.
12th October 2021
Niketh Shetty
PLM Central have just completed yet another exciting quarter, and we are so pleased to announce that we've smashed our targeted revenue by 150% for PTC.

This has been somewhat of a recovery quarter post-Covid, and we are pleased we are now seeing some green shoots of recovery with our performance also reflecting that.

We're thrilled to announce that one of our major Engineering customers "Ansaldo Nuclear" renewed their long term contract with us last month – their confidence in us speaks volumes and we are genuinely pleased to continue to support them.

We've also started recruiting with hopes to expand our expertise, with even more capable, knowledgeable team members.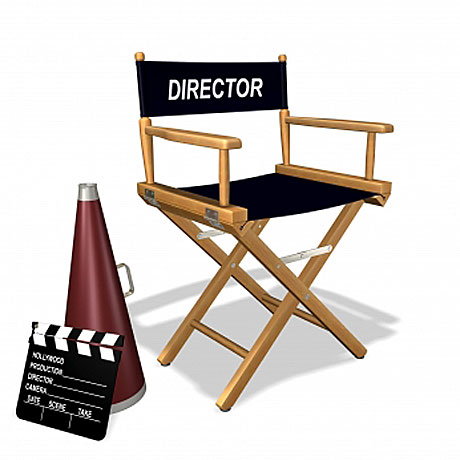 Getting through the difficult Covid period, we're starting, surely but steadily, to consolidate our position as a major force in PLM Consultancy in both the UK & Ireland. We are extremely confident that we will be engaging more and more with complex, larger customer requirements to deliver services at the highest level.
We are moving on to the last quarter of the PTC calendar year with renewed confidence and a very upbeat mood. At this point, I would like to thank all our customers for their continued and welcomed support!
As always, we are here for support and consultation, so please do get in touch today here.
6th July 2021
Niketh Shetty
Microsoft have announced the release of Windows 11 which will be rolled out, view here.
The official release date will be around November or December this year.
More details can be found below:
Windows 11 beta version will be available to download next week. The official release date will be around November or December this year. Microsoft will continue to support Windows 10 until October 14, 2025.
As per the PTC software compatibily matrices there is no support for Windows 11 yet.
"Please hold back with the upgrade to Windows 11 until further notice."
Applicable Products:
Creo
Windchill
MathCad
If you do have any queries regarding the Windows update, feel free to contact us via email:
support@plmcentral.co.uk
28th June 2021
Muhsin Ali
Creo 8 is now available!
PTC have announced the release of Creo 8 which is full of user-focused productivity enhancements and new capabilities for companies committed to innovation.
Do not worry! As with every Creo release, you can expect dozens of improvements to core design capabilities that make it easier for you to get things done.
• Usability and productivity improvements to core functions you will use every day
• Improvements to detailing and MBD (Model-Based Definition) to enhance quality and communication of design intent
• And improvements to simulation, generative design, and CAM to help take your design process to the next level
Best of all, you can see it all in just a few minutes. In fact, there's no faster way to catch up with what's new in Creo software. Watch our webinar to see the new enhancements in action.
If you want to read more see our dedicated page here.
For those who missed out on this webinar a video has been made, if you have any queries please do not hesitate to contact us.
26th May 2021
Muhsin Ali
With 2020 changing how the world operates, the need for Digital transformation has not been more apparent. This is most certainly the case with our latest recruit, Edale. They have signed up for a long-term contract with PLM Central to fully utilise the huge range of capabilities our PTC solutions offers. PTC offer Digital Transformation solutions to a wide variety of industries, and PLM Central are a PTC Partner and Reseller.
Edale are engineers of world-class tailor-made flexographic printing and converting solutions for the packaging industry, based in Whiteley in the UK. Whilst they have been working with PTC technology for almost 15 years, they have never really utilised the full extent of the products. With diminishing ROI, lower value for money and inefficiencies, they were close to moving away from PTC. However, after discovering PLM Central, speaking to our expert teams, and applying the Engineering and Manufacturing solutions to their problems, Edale's faith and excitement for PTC products were renewed.
Glen Whittington, Edale Design Office Manager, said
"Speaking to PLM Central was a breath of fresh air. They quickly and efficiently identified cost-effective gains and brought back efficiency to my whole team. We have signed a long-term deal with them, so they can guide us through our new 'Digital Transformations Vision 2025' initiative over a three-staged period."
Niketh Shetty, PLM Central's Director also had a few great words to say,
"After speaking to Glen, listening to all his fears and doubts regarding PTC products, I delved deep into both the needs of the company and the capabilities/functionalities of our amazing PTC products. Glen Passion for Creating innovative products inspired us to showcase the amazing solution these PTC products offer."
10th May 2021
Zahra Nurmohamed
Harness the power of AI and deliver your best designs in less time.
Introduced by:- Kolawole Agoro, an Applications Engineer at PLM Central
Speaker:- Muhsin Ali, a Senior Applications Engineer also at PLM Central.
Are you looking to create optimal CAD model designs from a set of requirements you specify, produce high-quality designs at a lower cost and ready-to-manufacture products? Then look no further.
Generative Design allows you to:
• Rapidly explore innovative designs
• Cut costs
• Improve quality
• Reduce time-to-market
• Faster exploration
• More in-depth examination of different combinations of materials and manufacturing processes
For those who missed out on this webinar a video has been made, if you have any queries please do not hesitate to contact us.
22nd April 2021
Muhsin Ali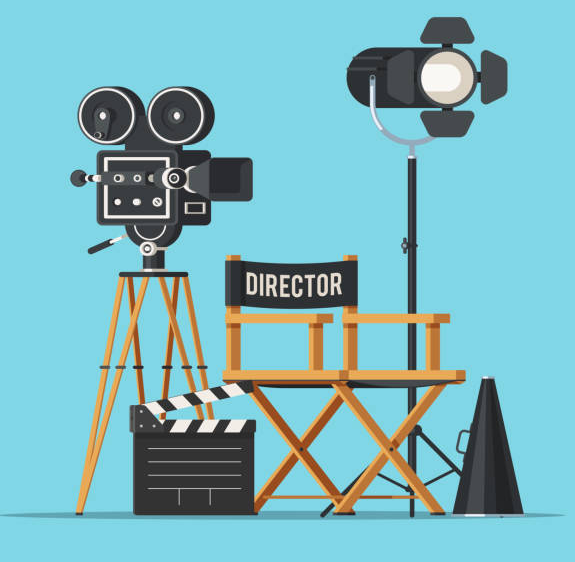 Another month in lockdown has past, but we are filled with positivity as the vaccination rollout is suppressing the virus infection in the UK. This will be great for businesses as well as our mental well-being as we look forward to things opening up in Easter and beyond.
This month, we have reached the end of the financial year and end of the quarter. I'm really proud to announce that this has been an excellent quarter for PLM Central as we've obtained more than 160% of our quarterly sales target for PTC.
We have to thank all our customers who have trusted in our products, support & services.
Just to highlight a few of them, we confirmed a large Digital Transformation order from a UK based "Flexographic printing machine maker", who will be taking advantage of our support services, as well as our products (more information to be announced soon!). They will be fully utilising our Engineering & Manufacturing solutions, which you can learn more about in the like provided. And a first for PLMc – A major design house recently purchased our Creo Ansys Driven Simulation (CSL) software.
In terms of activities our premier Engineering Calculation software PTC MathCad has had an upgrade to PTC MathCad Prime 7.0 . To celebrate, we hosted an excellent webinar exploring all the new features, which received fantastic feedback and engagement. Watch the full webinar here.
We're looking forward to April with hope and anticipation for business to resume back to normality.
We would like to wish all our customers a lovely and Happy Easter!
30th March 2021
Niketh Shetty
PTC have announced Mathcad Prime 7.0 to replace all versions of Mathcad which precede. So no more Mathcad 15 or Prime 6.0!
PTC has also announced the end-of-sale and support for PTC Mathcad 15.0 and PTC Mathcad Prime 1.0 – PTC Mathcad Prime 6.0 effective December 31, 2021.
This webinar will cover everything you need to know to move from Mathcad to Prime. Included are the new features and benefits which come with this all new version.
For those who missed out on this webinar a video has been made, if you have any queries please do not hesitate to contact us.
24th March 2021
Muhsin Ali
After a tough year of lockdown, which was no doubt challenging for all businesses, there is finally a roadmap out of the Pandemic and back to a sense of normal. As with most businesses, PLM Central will be returning to the office in phase's, aligned to the new government guideline. It is our priority to ensure all our clients are well looked after and we are ready and geared up to serve your every interest. Working remotely or in the office, we are always here to support you!
2021 has started of positively for PLM Central, after signing up a few really exciting clients. We're extremely happy to have acquired a long term commitment from Edale Ltd. They were looking for better service and more tailored relationships, and PLMc' customer success strategy was a key driver for Edale aligning with us. We are very proud of what we offer to our customer and with our personal support, Edale's investment in technology will be justified.
In other news, MathCad primes 7.0 is planned to be out on the 9th of March with exciting new features. PTC have announced plans to retire MathCad 15 and any other prior versions, making MathCad 7.0 the a must have. We have a specially dedicated our March Webinar toward this important crossover. Sign up here to find out what's new.
We are also developing some amazing AR capabilities we will have some update for our customer in the coming weeks and months. PLM Central are on a roll and have some exciting things coming up!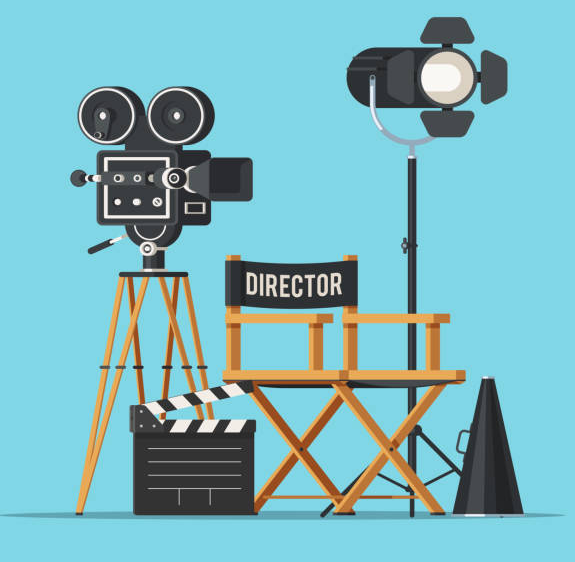 4th March 2021
Niketh Shetty
I've never considered myself a huge science buff. Whilst I do work in Digital Marketing, an ever-evolving technology industry, I never questioned how the platform were built or how the technology spoke to each other. Then, six months ago I was invited to an interview at PLM Central, a Digital Transformation company, who upskill organisations with transformative software that changes how the day to day operation of businesses work.
As a creative person, diving into a variety of different projects and industries has always been exciting for me. Initially, I was completely overwhelmed by the technological advancements offered by PLM Central, but I was equally fascinated.
I may not be a 'Women in tech' in the traditional sense of the term, but over the last 6 months, I've loved learning about how Computer-Aided Design or Augmented Reality can drastically change how industries function. Appling my marketing skills to boosting the awareness of these complex, yet life-altering, software's, has been an absolute joy, and women everywhere need to jump in.
Being the only women in the team is strangely something I expected but desperately want to see evolve. This world of tech is fascinating and ever-growing. Whilst massive progress has been made in removing the gender gap and stigma, I want to encourage more change, in all areas of science and tech. I'm not a scientist, but have found my place, and this international women's day, I encourage women everywhere to do the same.
4th March 2021
Zahra Nurmohamed
PLM Central have recently been selected the ADS's Aerospace 4.0's Steering Group, with representatives from member companies serving all sized organisation including academia and members from the Catapult organisations.
The steering group see their mission as educating, facilitating and fostering the adoption of these digital technologies in the UK Aerospace Sector. It isn't only about the technology, it's about the successful adoption and deployment of digital technologies to create value for all the stakeholders in our particular industry…from the end consumer of the service/product all the way through the value chain to raw material producers. To be effective in tackling this issue, we will need to collaborate, share knowledge across the industry and encourage the development of business cases to support the industrial-strength deployment of Industry4.0 technologies that will create a competitive advantage for UK aerospace.
This will be done through regular events at a local, regional and national level which will be proactive and encourage adoption and deployment, whilst also influencing UK Government policy and strategy. We have big ambitions…but it's an important time for all of us in UK manufacturing, particularly in the aerospace sector.
Check out the original article and find our much more

21st January 2021
Niketh Shetty
To kick-start 2021 we are discussing what the updated Sales Configurator brings to your business using the Options Modeler extension. As technology that continues to progress, consumers continue to look for better and more easily configured products, this and much more is achievable with Sales Configurator, as it enables customers to configure their product selection, get instant quotes, accurate delivery dates, and even place their orders with little or no input from sales. It also boasts the added benefit of having the CAD structure ready made for you. Some benefits achievable through the Sales configurator are:
Improved communications between sales and engineering
Real-time visualisation of products
Eliminates the need for reworks
Creating CAD structures of variants
Increased productivity and efficiency
Lowered costs
For those who missed out on this webinar a video has been made, if you have any queries please do not hesitate to contact us.
20th January 2021
Stefan Dornescu
We teamed up with our partner company PTC and The Hertfordshire Chamber of commerce to bring you the latest on remote support technology, a trend which has become ever important in the face of Covid19. Some of the benefits of remote support technology include…
The fact it allows companies to comply efficiently with social distance regulations
It reduces the impact on the environment
Helps to cut company costs
Benefits the general health of staff
Increases productivity by reducing travel time
For those who missed out on this webinar a video has been made, if you have any queries please do not hesitate to contact us.
1st December 2020
Muhsin Ali
In this video demo, we show how the Project Plan Activity track works in Windchill using MPM Link . Get in touch to ask questions from our experts.
18th November 2020
Stefan Dornescu
In this video demo, we show how to save a Step file in Windchill. Get in touch to ask questions from our experts.
18th November 2020
Stefan Dornescu
Interactive demos on how Easy and Simple it is to creating Options & Variants using our best-selling CAD and PLM program, Creo Parametric and Windchill. These videos provide detailed information on our products. Get in touch to ask questions from our experts.
Options and Variants in Creo/Windchill using the Options Modeller
Options and Variants in Creo/Windchill using Overloaded Structures
18th November 2020
Stefan Dornescu
Revolutionise product design by removing the barriers between Computer Aided Design (CAD) and Computer Aided Engineering (CAE). Powered by ANSYS, PTC have integrated best in class design and simulation capabilities into one product: Creo 7.0!
Watch our informational webinar which will highlight the capabilities, demonstrating the ease of use, speed and interactive nature of Creo Simulation Live and how it can benefit businesses.
If you have any queries regard Creo or Simulation Live then contact one of our team members:
Moll Holmes, Digital Transformation Consultant
molly.h@plmcentral.co.uk
Muhsin Ali, Applications Engineer
muhsin.a@plmcentral.co.uk
21st October 2020
Muhsin Ali
Our team showcase the inspirational Digital Transformation journey of a large manufacturing company, starting with the Sales Enquiry all the way through to the Manufacturing & Warranty. We used technologies like CAD/PLM/IIOT/AR to achieve this transformation.
17th September 2020
Muhsin Ali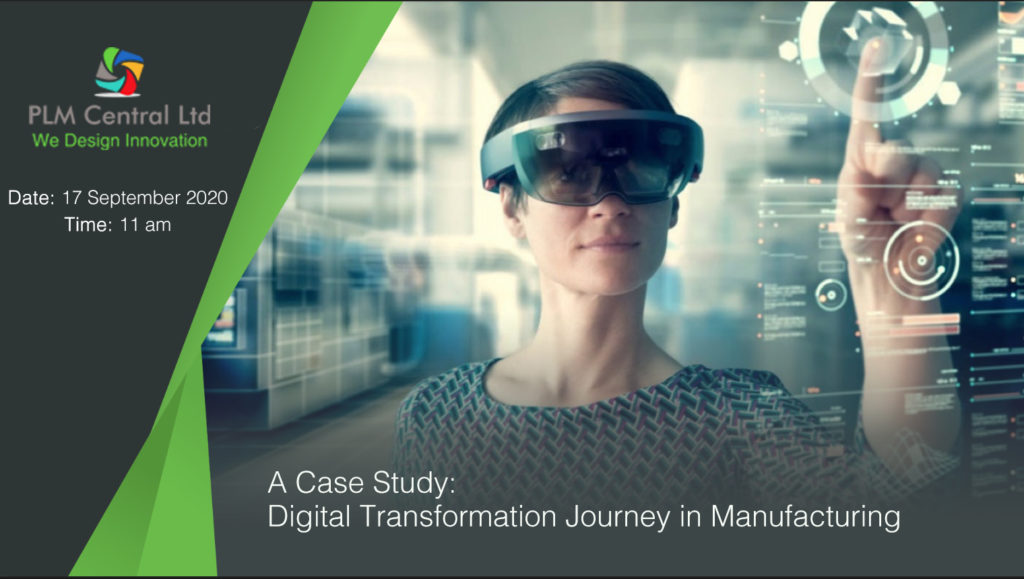 What is our webinar about?
Our team will showcase the inspirational Digital Transformation journey of a large manufacturing company, starting with the Sales Enquiry all the way through to the Manufacturing & Warranty. Do not miss out on how we have uniquely implemented:
Automatic Part Number Generation
Enterprise Change Process with embedded Warranty
Options & Variants
Automatic Certificate Creation using Document Templates
And more…
What has this achieved for our customer?
Bridged the big gulf between Sales & Design
Auto generated sales specification
Reduced design time by 60% after implementing Options & Variants
Quick generation of Sheetmetal components
Auto generated VOSA documents and Certifications
State of the Art change processes including Warranty
Close interaction with Third Party Suppliers
World Class products removing duplication and increased efficiency
No longer a cliché: "One Version of Truth Implemented and Delivered"
4th September 2020
Muhsin Ali
A webinar hosted by PLM Central Ltd which details the new enhancements that can be found in Windchill 12 and how these can benefit your enterprise.
Watch the video to gain more insight and feel free to contact us for any further inquiries.
24th August 2020
Muhsin Ali
The coronavirus crisis of 2020 is changing the way we work, perhaps forever. Travel bans, lockdowns, and social distancing policies disrupted business around the world, forcing companies to find new ways to work. The trend toward a more distributed, mobile, and agile workforce was already unmistakable, but the crisis has dramatically accelerated this shift for workers who can thrive in the virtual world. But perhaps the bigger news coming out of the crisis is that the larger front-line workforce operating in the physical world participated for the first time in digital transformation in a meaningful way.
This webinar will explain how AR can greatly benefit and support the practice of social distancing in industry.
For those who missed out on this webinar a video has been made, if you have any queries please do not hesitate to contact us.
20th July 2020
Muhsin Ali
As communicated by Oracle regarding the imminent end of support for Oracle 12.2.0.1 release (widely known as 12cR2) being November 2020 (without any option of Extended Support), PTC plans to support next Oracle release i.e. 19c* with our upcoming Windchill RV&S Release 12.3.1. This change in supported Oracle database release version means that customers will have to use the upgrade process to get to Windchill RV&S 12.3.1 release, instead of an update.
Because Windchill RV&S 12.3.1 is going to be an upgrade release, customers using Microsoft SQL as database server for Windchill RV&S will also have to upgrade their Windchill RV&S environments instead of an update.
We'll update all the supporting artefacts, such as Windchill RV&S Product Platforms, to reflect these details.
The Premier Support period for Oracle 19c release (March 2023) extends well beyond 2 years standard support for Windchill RV&S 12.3.1 Release.
13th July 2020
Muhsin Ali