Big Savings On Creo Design Packages

Business needs change, even when budgets don't. If you're looking for CAD licences today or for the coming year, here's an offer you won't want to miss:
For a limited time, when you buy a two-year subscription to any Creo Design package, you can get a second package for 50% off.
No matter which package you choose, you'll be getting industry-standard 3D CAD capabilities such as multi-CAD collaboration, routed systems, advanced rendering, and design exploration. More advanced packages add on Creo's CAM suite, top-down assembly support, advanced simulation, and more.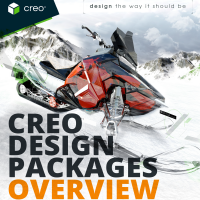 Not sure which package is right for you? Check out our brochure, and fill out the form to download and read our expert-written Creo Design Packages: Explore Your Options eBook.