Are you using the latest version of Creo?
With each new version of Creo, PTC delivers breakthrough, innovative capabilities (such as additive manufacturing, real-time simulation, and augmented reality) and continues to enhance the user interface, including useful mini-toolbars and simplified commands. And because a Creo subscription entitles you to the latest version, all of these improvements are available to you at no additional cost.
For example, Creo 6.0 provides new valuable and time-saving additive manufacturing tools. You can use advanced lattices, like self-supporting gyroids, randomized stochastic, and conformal. You can analyze and optimize build direction. And you can leverage topology optimization tools with semi-automatic reconstruction to a Creo solid geometry. When you are ready to print, you can direct-print your designs to select print bureaus, prepare your build for a variety of metal printers, or print using the Microsoft Windows 10 3D printer driver. Creo 6.0 delivers next-level tools to simplify the additive manufacturing design process.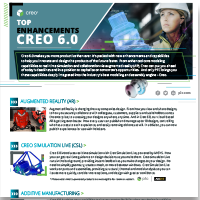 We are inviting you to take advantage of a time-limited Buy One, Get One 50% off with a two-year subscription offer, which will allow you to freely choose any version of Creo now and in the future. Read some of the recent top enhancements from Creo 6.0, the latest version of Creo, here.